Walter Bengtsson an artist from Halmstad Sweden, compared creativity to a book title by Swedish novelist Hjalmar Söderberg, "The Serous Game". For Walter there was no sharp distinction between these different aspects of human existence. This definition of his art was as valid for him as a person too. Art was part of him, and he was part of his art. As a person, he was complex, a synthesis of what at first glance seems contradictory.
For us four children of Walter´s, this was very evident in everyday life. He was harsh in his dedicated creativity when he didn´t want to be disturbed by noisy children, but the next moment he would call us into the studio to ask us what we thought about his ongoing work of art. He was equally devoted and respectful of our spontaneous reactions and marveled comments. Dad was wise enough to realize that children´s minds should be considered a source of creativity. He often encouraged us to draw everything we saw and admired our naive drawings. Throughout his life he retained an admiration for the spontaneous, naive and playful in artistic creation, and that was how he wanted to be perceived himself. But the seemingly naive was not the same as simplicity. For dad the simple was the core of the essence. He was inspired by Picasso´s artwork, designed with a single line, expressing the figure´s volume and movement. Haven´t we all admired Picasso´s drawing of the peace dove? Only the knowledgeable, the experienced artistic craftsman can recreate the child´s spontaneous expressions. With a child´s innocent eyes Walter transformed reality.
How was he as a father? Well, he was as complex as simple. He was hard to see through, yet obvious in an immediate and robust way. Sure, he was sometimes harsh and unforgiving, yes mainly damn stubborn, but reconciliation and humor were always close at hand. As a father he was often incomprehensible, contradictory and simultaneously natural and straightforward. As young children we often saw him as the clown, when he invited us to imaginative games. But they were on his terms. He didn´t always show responsiveness and patience when we kids wanted it. That was a matter that we confronted him with as teenagers, but as adults have forgiven, because his crazy playfulness enriched our childhood.
In the early 50´s we lived in a small apartment at Rotorp in Halmstad. It meant that father was not able to have an art studio at home, so he hired a room in a mechanic workshop. But that did not prevent him from creating monumental art…in our courtyard. A cold snowy winter, he built along with us kids a full sized horse of snow. Spraying it with water he made it freeze to ice, and so he could carve out the details, like a sculpture. It caused quite a stir in the neighbourhood when all the kids stood in line, to mount the horse and ride away. We were very proud of our creation, no not a work of art… it was a real horse!
Then came the great adventure for our family, when father got a scholarship to study art at the Academia de Brera in Milano and the whole family moved abroad for half a year. We stuffed our-selves in an old Volvo Duett and went the long way south. We children remember the discomfort we felt in a hotel in southern Germany, or were it in Austria, where we spent the night in a stale, naphthalene-smelling room with dismal crucifixes on the wall. "It smells disgusting, it smells like Jesus!", we complained. Once in Milan we amazed at our new home. A newly built high rise with 8 floors! Never before had we seen such an impressive house. The apartment was unfurnished so we camped with furniture designed for tents. As the plastering of some walls was not finished, we children had the unique opportunity to try the difficult art of fresco-painting. The walls were soon covered with colourful drawings up to the height we could reach. Dad was thrilled; our mother Ullabritt was probably more concerned about what the landlord might say.
In retrospect we have realized that the stay in Milano was in many ways a disappointment to them both. Dad wasn´t happy at the Academy under the famous professor Marino Marini´s leadership. The master visited the art school once a week and quickly slipped past his pupils with the comment: "Bueno, Bueno!" Then they saw no more of him that week. "Here I won't learn anything!"Dad sighed. However he got to know the Italian sculptor Arnoldo Pomodoro, nowadays a world-famous artist, who deeply inspired him.
For mom´s part, life in Italy was probably pretty boring and she was quite homesick. She had the responsible task of being the three eldest daughter´s substitute teacher during the fall term of 1958, and she took this very seriously. Out of pure fear that we would fall behind in school, she kept a strict teaching on the balcony of the 8th floor. For us, it was a very nice classroom with a superb view over the centre of Milano.
Close by was an old church, which none of us then knew, held the famous painting, "The Last Supper" by Leonardo da Vinci. It wasn´t until the return home that father became aware of this shameful miss. But, to our delight we sisters discovered that they often celebrated weddings and funerals in the church. We were particularly interested in the loud funeral parades, when the coffin on horse and wagon, followed by brass bands and black-clad people in long rows, passed by. We didn´t feel much compassion or respect for those grieving people, but were fascinated by the macabre sight. What was more; it gave a welcome break in the teaching. It may be added that mother´s teaching ambition exceeded everyone´s expectations. When we returned to school at home, it turned out that we had learnt an entire year´s course, instead of just the term we were gone.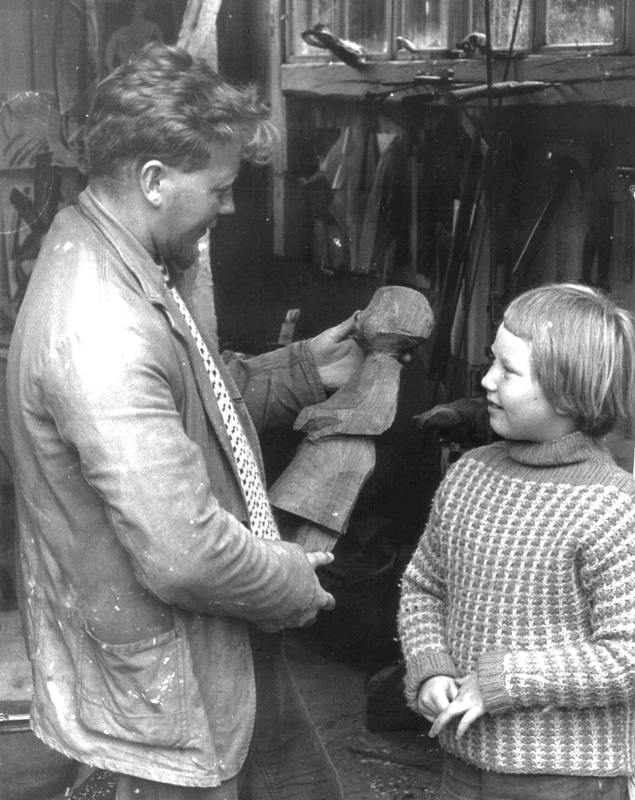 One day in 1959 father came home and happily exclaimed "Would you like to move to a castle?" Wow, that sounded exciting! What kind of castle, we wondered? A real fairy-tale castle? "Well, almost" dad assured, "a castle with battlements and turrets". Thus began our castle-life. It proved to be Tiarp castle, belonging to the estate owner Stael von Holstein of Vapnö. Thanks to common acquaintances our parents got the offer to stay at low cost in the castle, built in the second half of the 19th century. It was like a dream! A house with 12 rooms where father could set up two studios, one for sculpture and one for painting and graphics. We children did not complain when we were asked to choose which of the round tower rooms we wanted to sleep in. How exciting it was to discover all the hidden corners in this vast house. Outside was an impressive park with apple trees, generously blossoming in the spring, like the Nangijala in Astrid Lindgren´s story "The Brothes Lionheart".
We met the summers with joy but were horrified by the almost unbearable winters. It was with dismay, that we on winter mornings put our feet outside the bed-cover, down to the cold floor, which usually didn't reach a temperature higher than 14 degrees Celsius.
Here father realized his farmer dream, which probably was not shared by mother. He bought chickens in lots, pigeons in masses, a turkey that frightened us terribly and a ewe with her lamb, named Ophelia and Hamlet. Our everyday castle life was mixed with dull chores such as collecting eggs and cleaning the chicken coop, but since dad loved nature, he often took us on exiting discovery tours in the nearby forest. We packed hot chocolate, sandwiches, pencils and drawing paper in our backpacks and draw all interesting thing we saw. Sometimes he would let us kids go a shorter tour for ourselves, unaware of him sneaking behind to see where we went.
As a father Walter encouraged us to a healthy rebellion against conventions. As a child he had been a victim of harassment in school, when he was scorned and beat by his teacher for poor spelling. Neither the teacher nor he himself knew then that he was suffering from congenital dyslexia. This dis-respectful treatment formed his distrust of the school system. Of course he realized the importance of education in his children's future, but he considered it more important for us to develop a creative mind than getting high marks in school. His sad experiences at school made him sympathetic of the discomfort we sometimes felt in relation to school´s expectations and dreary routines. One evening when two of us groaned over the next school day, he unexpectedly said; "Forget school tomorrow and come with me to the forest to listen to the black cock´s crooning….but you have to get up at 5." No problem! Awake and fit as fiddles, we packed our backpacks and set off to the adventure. Walter´s childish excitement was contagious. As scientists we observed and explored every sound that indicated the presence of Black Grouses, and finally had the exceptional luck of seeing the magnificent spectacle. On the way home, when our car passed the school, father called to us in the backseat: "Hide, get down so that no one can see you!" In league with dad, we told the teacher next day that oddly both of us had got stomach flu, maybe due to us being twins.
Adolescent Walter was fascinated by the rugged coast of Stenhuggeriet, outside Halmstad. He had often passed it on bike and dreamt of life as artist, like the members of a well known Swedish art group "Söndrumskolonin", who worked here during the 1940ies. But he had not grown up in an artistic atmosphere. His father was a carpenter and died when Walter was 2 years old, so his mother had to support her seven children by working as a maid and laundress. Despite this he had an innate unconquerable drive to interpret and transform reality. In 1954, after 13 years as a butcher, when he decided to take the step to study at Valand´s School of Art in Gothenburg, few believed in him. His sisters condemned him as highly irresponsible, being the father of three children, leaving a permanent employment, for such nonsense as art. But grandma and mom realized that he had no other choice. His fervent ambition to artistry could no longer be held back. He told us later in life, that after a hospitalization due to gastric ulcer, he knew he would stay unhappy for the rest of his life, if he didn´t carry out his artistic dream. But since he also was a realist he combined his studies with jobs during weekends.
When, after returning from the studies in Milano, Walter heard that the forge in the disused quarry Bastaskärs Stenbrott near the harbour of Grötvik, was for sale, he did not hesitate a second. Here he would build his future studio. With great enthusiasm the whole family participated as unskilled labourers in the construction project. But now our permanent accommodation was a villa in the suburb Eketånga. During our childhood we spent every summer in father´s studio near the sea. Here we swam at our so called "Shell Beach". We enjoyed countless barbeques in the sunset at the sea. Daily life in dad´s workshop with plaster models, welders, a graphic printing press etc, was so undramatic and natural that we were surprised when people wondered if it was exciting having a father who was a sculptor. No not really, his work was not as bohemian as many thought. His work schedule was strictly organized between 7 am and 4 pm. It is myth, father said, that artists have to wait for creative inspiration. On the contrary, persistent, steady work with careful preparations finally leads to the state of flow, that we call inspiration. As teenagers we often assisted him, mixing plaster, banging copper and polishing aluminium, but it was not until we were adults that we could perceive his art from a more objective view.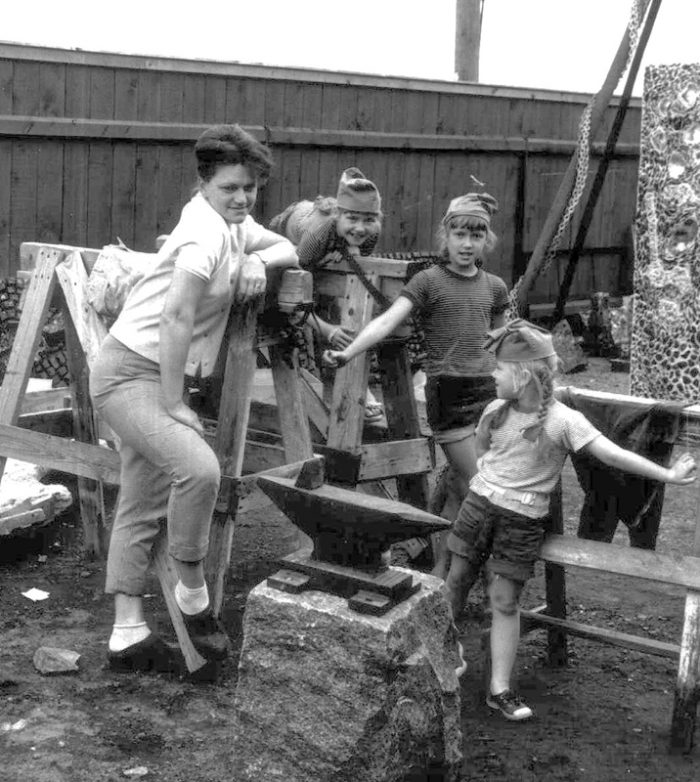 "I will never move from here!" Walter answered a reporter who wondered- if not the big city…?
For nearly 40 years this studio was the permanent place for father's artistic explorations. He needed this bare unchanging coast, because he was basically a restless person constantly in search of new challenges. His monumental public works of art reflect this need, like his frequent travels around the world. In these journeys he got new ideas, which are traceable in many of his sculptures, where you can find traces of Greek and Scandinavian mythology, African folk art and Indian mysticism. Mostly he and mother travelled together, but sometime the whole family went away. That always was enriching experiences. Dad was interested in the everyday life of different cultures. He searched for the down-to-earth and everyday life wherever he came and despite his poor English he never had difficulties in finding new friends. It was his natural, spontaneous way and candid humour that often won the hearts of others. On these journeys he lured us up at dawn to admire the sunrise, walking in small villages while the residents did their morning chores and tasting the exotic fruits in the street shops. But the trips also included visits at several archaeological museums around the world, a thing of which we daughters didn´t share his enthusiasm. But undoubtedly they broadened our horizon, for instance when one of us sisters, with mixed feelings of amazement and disgust wondered why all these "brown apple cores" where in show cases of glass? Dad laughed heartily when he explained that the "apple cores" were the mummified relics of several thousand years old people.
Working as an artist requires a genuine intention and a conviction that despite doubts and setbacks, you can maintain belief in your ability to communicate something new and unique to the world. Walter had this trustful courage. Undoubtedly, he had personal traits of egocentricity and a dominant character. He could be steadfastly stubborn and wanted his voice to be heard. As radical youths, we teased him for his tiresome swaggering and openly questioned his genius. It hurt him of course, but also led to some self critical and humorous works of art, for instance the sculpture "The Trumpet Angel and the small Devils" The inflated Angel was himself and the devils were the four daughters gnawing on his self esteem. Father surely had confidence and integrity as an artist, but also showed deep respect towards his artist colleagues and in particular the famous Swedish painter Sven X-et Erixson, who had his summer studio next to the port of Grötvik. Over the years they became close friends and "soul-mates".
Age and illness made father more humble and gentle. He was secure enough as a person and artist no longer to be in need of constant confirmation. But he still had artistic aspirations, seen when at the age of 71 years in his sickbed; with glowing eyes he shared his ideas of new sculptures. Two days later he was dead! He had finally attained the wisdom that the poet Elmer Diktonius so beautifully describes: "At first I was a child, later I became an artist, eventually I became a human". A quote father himself had used in one of his most valued works "Caryatid and Atlantic interplay" placed in the office of bank and insurance company Länsförsäkringar in Halmstad.
Written by Lena Bengtsson 2013-01-21
Halmstad/Sweden